7.30pm – 9.00pm
Whoever you are, if you are affected by ADHD, then you need to join HADD and others like you, to share in discussion some of our shared problems ... BUT more importantly, coming up with some real solutions.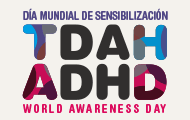 ADHD World Awareness Day Help us spread the campaign for the declaration by the World Health Organisation of an ADHD World Awareness Day.
WILL YOU WALK, RUN OR JOG FOR HADD IN THE
2013 FLORA WOMEN'S MINI MARATHON, DUBLIN ON 3RD JUNE?
CALL 8748349 OR EMAIL info@hadd.ie FOR SPONSORSHIP CARD, TEE-SHIRT ETC.


NB you must enter the mini marathon on line at https://apps.florawomensminimarathon.ie/online-entry/login.asp or with the application in the Evening Herald.
HADD is one of the first 100 charities who have signed up as meeting the requirements of the Irish Code of Governance for Community and Voluntary Organisations.
The A-Zee of ADHD
Download pdf : The A-Zee of ADHD
"The launch of this Directory is a very welcome addition for families, particularly those who are may be experiencing ADHD for the first time, and don't know how best to avail of the mental health services and supports to help their child. This directory eliminates that fear of the unknown."
- Minister Francis Fitzgerald

HADD publishes a series of presentations on ADHD
We invite you to take a look a various presentations from researchers and professionals in ADHD. 
HADD Family Support Group for ADHD in Ireland
We're glad you logged on. We are an organisation in Ireland made up of volunteers- mainly parents of children with ADHD. We are dedicated to providing as much up-to-date information, resources and networking opportunities to parents of children with Attention Deficit/Hyperactivity Disorder (AD/HD) and the professionals who serve them.
Please note that the information you find on our web site is intended as a guide and is no substitute for professional medical/educational advice given to you personally, as each child with ADHD presents differently and as such has individual needs.
What's on our site?
If you would like to talk to someone about ADHD, you can contact us by telephone at 01 8748349 at the Carmichael Centre in Dublin. We have volunteers manning the telephone every Wednesday and Friday or you can send us an e-mail to info@hadd.ie if you have any questions or need more information about anything you see on this site. You will find information on diagnosis, treatments, education, parent's nights, up coming conferences, latest developments in research, information on other local ADHD support groups in Ireland, tips for parents and how to become a member. We hope you find it useful!
HADD exists to make life better for children with ADHD and their families.
 ADHD Awareness Week, 7th to 13th October
RTE Primetime Documentary on ADHD Thursday 8th November 2012 9.30pm.RTE Primetime Documentary on ADHD Thursday 8th November 2012 9.30pm.RTE Primetime Documentary on ADHD Thursday 8th November 2012 9.30pm.
'Needs Assessment and Diagnostic Practices: Pathways and Experiences'